Atlantic County Truck Accident Lawyers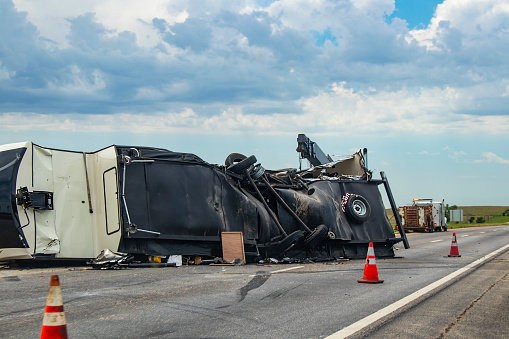 If you or a loved one has suffered a fatality or serious injury, and you are seeking Atlantic County truck accident lawyers for fair compensation, contact Westmoreland Vesper & Quattrone. We are a law firm based in Atlantic City, and we have successfully litigated cases involving vehicular accidents, negligence, wrongful death and personal injury cases for over half a century. We have negotiated over $250,000,000 in damage claims for our clients and their families.
With so many trucks on our highways, and with their sheer size and weight, a truck accident is often lethal or causes devastating injuries. Very often truck accidents are preventable. They can be caused by driver fatigue, insufficient driver training, or improperly secured loads. The trucking industry has an extensive list of regulations they must follow, including limits on consecutive hours of driving and weight limitations. Failure to meet those requirements can be fatal to innocent parties.
Our Atlantic County truck accident lawyers have years of experience finding the truth about how accidents happen, and requirements that may have been neglected. We conduct a thorough investigation, with accident reconstruction experts, to find out the true cause of the accident and injuries. We also understand what records trucking and insurance companies maintain, and how to obtain them.
We will go over all of your options to receive just and fair compensation, and insurance companies know that we are not afraid to take a case to trial if a settlement offer is less than justified.
If you are an Atlantic County resident or visitor who has been injured or lost a loved one in a truck accident, contact the lawyers at Westmoreland Vesper & Quattrone today for a free and confidential consultation. You are entitled to the truth, and whatever compensation is fair in cases of negligence. We will work to achieve the best results for you.