Atlantic City Dog Bite Injury Lawyers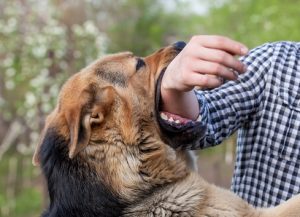 When you have been attacked or bitten by a dog and are in need of Atlantic City dog bite injury lawyers, call the offices of Westmoreland Vesper & Quattrone right away. Westmoreland Vesper & Quattrone is based right here in town, and we practice cases in personal injury, wrongful death and dangerous properties among many other areas.
In addition to being a frightening and traumatic experience, being bitten by a dog can cause great injury and health risks. Dog bites can result in excessive loss of blood, severe infections, even loss of digits or limbs. When you are injured by a dog bite, you could be facing debilitating injuries, high medical costs and missed work as a result, not to mention the devastating psychological and emotional trauma.
Westmoreland Vesper & Quattrone has been practicing law for over half a century in the South Jersey (Atlantic, Cumberland, Salem, Ocean, Cape May) community, and we have successfully recovered over $250 million in damages and compensation for clients. Our attorneys represent you zealously, work closely with you to implement your legal strategy, and are always willing to go to trial if necessary. We have demonstrated our ability to obtain the results our clients deserve time and time again, and we're ready to in your corner during this legal process.
---
Please use the form below to email us for a free, no obligation, attorney consultation.
When dog owners are negligent, they can be liable for damages to mitigate your suffering. In New Jersey, a dog owner is considered strictly liable when a victim is lawfully on private property (such as mail carriers).
The owner of a dog who has bitten or injured someone, if found guilty, often has insurance to cover such matters. In most cases, homeowner's insurance includes coverage for dog bites that happen on the owner's property. When an animal bite occurs in a car, the owner's and victim's insurance companies will often debate and settle which company is responsible for damages.
Your Experienced Atlantic City Dog Bite Attorneys
Atlantic City dog bite injury lawyers must be aware of statutes and ready to challenge insurance companies who fail to fairly compensate dog bite victims. At Westmoreland Vesper & Quattrone, we thoroughly examine your case and will always be prepared to go to trial if necessary. We have a wealth of experience negotiating with insurance companies and challenging their attempts to downplay injuries, and we bring that experience to each individual case.
The attorneys at Westmoreland, Vesper & Quattrone have built a long track record of successful litigation services in our 50 years of practice and counting. Don't take our word for it…feel free to read these testimonials from very satisfied clients of ours.
If you are suffering from the effects of a dog bite, don't wait. Contact the experienced professionals at Westmoreland Vesper & Quattrone today and request your absolutely free, no-obligation consultation, and let us help you recover your life again.
Interested in advice, updates and reviews from Westmoreland Vesper & Quattrone? Be sure to follow our Facebook page! Also, have a look at our blog and news page to see legal advice, legal news, and more updates.