Atlantic City Defective Products Attorneys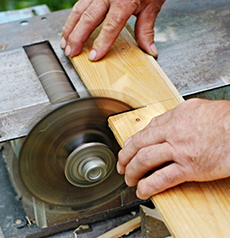 At Westmoreland Vesper & Quattrone, we're successfully represented many clients as Atlantic City defective products attorneys. Our law office is conveniently based here in West Atlantic City, and we are here to help you achieve the compensation you deserve for your injury or for the wrongful death of a family member.
Sadly,many companies neglect safety in their products. They design them poorly, manufacture them improperly, or inadequately label them. As a results, products can cause serious injuries and even death. When a product needlessly causes such trauma, it causes great suffering for a family.
Product liability claims may involve: hazardous children's toys, clothing or other accessories; dangerous appliances which injure users or bystanders; appliances and other electrical items that catch fire; pharmaceuticals or other health care products that cause dangerous side effects; medical devices which fail or cause serious injury; vehicles which are unsafe to operate; seat belts, airbags and car door latches that do not work properly; garage doors that fail to stop when they come in contact with a person; improperly designed swimming pools and many other products.
What To Do Following A Defective Product Injury
If you have been seriously injured or a family member has been injured or killed in an accident involving a defective product, you should talk to an experienced products liability attorney as soon as possible. Manufacturing companies have a staff of lawyers and experts whose job it is to deal with lawsuits stemming from defective products. We believe those injured by these companies' products should have an aggressive, qualified lawyer on their side to protect their interests as well.
Keep in mind also that you should seek medical attention immediately after an injury. In many accidents, you may suffer an injury that doesn't cause immediate pain, but could cause you great trouble in the future. It's best to have a medical expert thoroughly examine you and have the evidence on record. Furthermore, if you don't seek immediate medical attention, an insurance company will raise that in court trying to avoid blame for their client.
Experienced Atlantic City Defective Products Attorneys
Our law firm has been practicing successfully for over 50 years. We have seen the heartache and frustration that victims and their families go through. We've seen the physical, emotional and financial hardships that people suffer as a result of defective products and carelessness of an industry. We know full well what you're going through, and we work every day to zealously represent your side.
Our attorneys have successfully represented a wide variety of accident and defective product victims. To date, we have recovered over $250,000,000 for our clients. We know how to best achieve the compensation you deserve, by gathering the details and facts. Most of all, we're not afraid to go to trial when necessary.
Westmoreland Vesper & Quattrone attorneys have extensive experience helping the victims of product liability accidents and their families. The firm represents people suffering injuries or wrongful death to defective product design, defective manufacturing, inadequate labeling and product warnings, misuse by a third party, recalls and other foreseeable factors.
Westmoreland Vesper & Quattrone has the knowledge, the experience and the resources to fully investigate these often complex cases. We make sure that before negotiating any settlement that we know the full extent of your injuries. Our experts also fully evaluate the impact they will have on your life. We will work hard to see that the company and insurance company compensate you fully and fairly.
Have you or a family member has been injured due to the negligence of others? Reach out to us today and request a free consultation. Please fill out our Contact Form or call us at 609-645-1111. Find out more about our services as Atlantic City defective products attorneys. We can win the fight for you.
Want to see more advice, tips, and case studies? Be sure to follow our Facebook page!