Atlantic City Dangerous Property Attorneys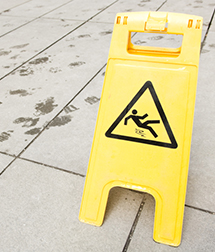 The law firm of Westmoreland Vesper & Quattrone is your reputable and longtime successful choice for Atlantic City dangerous property attorneys. We are a personal injury law firm that has successfully represented hundreds of clients and have helped them achieve the just compensation they deserve. Our firm is based right here in town, and we are available to help you today.
Accidents can happen anywhere – and for many reasons. For example, not having a lifeguard on duty at a swimming pool; an un-sanded, icy sidewalk in front of a restaurant; an elevator that hasn't been maintained properly; a malfunctioning amusement park ride; a wet floor in a grocery store; failure to provide adequate security; unprovoked dog bites and attacks; exposure to hazardous chemicals; a broken section of boardwalk; and other hazards. Potentially dangerous conditions like these can result in lasting injuries, life-long pain, and even death.
New Jersey state law makes it clear that the person, corporation, or government entity that controls a property has a duty to maintain the property in a safe condition for all those who enter the property. That entity has an obligation to know about dangerous and potentially dangerous conditions and to correct them. Residential and business property owners also have a legal obligation to make sure their property is safe and properly maintained. Additionally, liability law dictates that they must warn people who enter the premises of any unsafe conditions. Property owners who do otherwise endanger their visitors.
An Attorney Can Help
In our years of practicing law, we have seen the pain and frustration that people go through following an accident – the physical pain, the difficult changes in lifestyle, the financial hardships when one is unable to work. We've seen the negligence from companies and other entities regarding their dangerous property, and we've dealt with their attorneys and their insurance companies over their refusal to compensate victims.
If you have been injured, a knowledgeable attorney can help you determine the full extent of your injuries, determine if there was negligence by the property owner, if the negligence was a factor in the injury, and what insurance coverage is available. Please seek medical attention right away, especially if you're not certain of the extent of your injuries. A medical professional may find problems that you aren't feeling right now but could cause your trouble in the future…and an insurance company will pounce on any unwillingness on your part to seek medical attention.
The Atlantic City dangerous property attorneys at Westmoreland Vesper & Quattrone have a reputation for success in representing victims of general negligence accidents. To date we have recovered well over $250,000,000 in compensation for our personal injury clients and their families. We have the knowledge, experience and resources you need. We will work hard to see that you're compensated fully and fairly, and we are not afraid to take the fight to a trial if necessary.
We invite you to have a look at our testimonials here and see what our clients have had to say about our services, and to take a look at landmark decisions that we have been a part of for the people that we represent. We also invite you to have a look at our news page for advice, law updates and case studies.
Call Your Atlantic City Dangerous Property Attorney Today.
If you or a family member has been injured, due to the negligence of others, reach out to us today. Please fill out our Contact Form below, or call us at 609-645-1111 to learn more. We would be happy to arrange for a confidential free consultation and listen to your story.
Interested in seeing some of our success stories, legal advice, and more? Be sure to Follow our Facebook page today!