DANGEROUS PROPERTY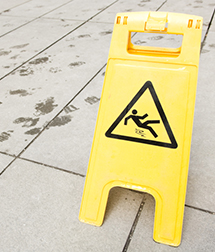 Accidents can happen anywhere – and for many reasons. For example, not having a lifeguard on duty at a swimming pool; an unsanded , icy sidewalk in front of a restaurant; an elevator that hasn't been maintained properly; a malfunctioning amusement park ride; a wet floor in a grocery store; failure to provide adequate security; unprovoked dog bites and attacks; exposure to hazardous chemicals; a broken section of boardwalk; and other hazards. Potentially dangerous conditions like these can result in lasting injuries, life-long pain, and even death.
New Jersey state law makes it clear that the person, corporation, or government entity that controls a property has a duty to maintain the property in a safe condition for all those who enter the property. That entity has an obligation to know about dangerous and potentially dangerous conditions and to correct them. Residential and business property owners have a legal obligation to make sure their property is safe and properly maintained. Additionally, liability law dictates that they must warn people who enter the premises of any unsafe conditions. Property owners who do otherwise endanger their visitors.
An Attorney Can Help
If you have been injured, a knowledgeable attorney can help you determine the full extent of your injuries, determine if there was negligence by the property owner, if the negligence was a factor in the injury, and what insurance coverage is available.
Dangerous Property Experience
Westmoreland Vesper & Quattrone attorneys have a reputation for success representing people who have been victims of general negligence accidents. We have the knowledge, experience and resources you need. We will work hard to see that you're compensated fully and fairly.
If you or a family member has been injured, due to the negligence of others, please fill out our Contact Form or call us at 609-645-1111 to learn more. We would be happy to arrange for a confidential free consultation.