Atlantic City Truck Accident Attorneys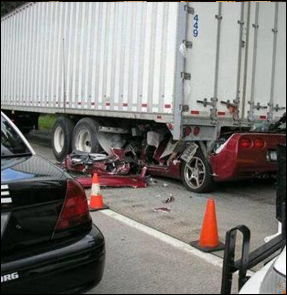 Westmoreland Vesper & Quattrone are your experienced Atlantic City truck accident attorneys, serving Atlantic County and Cumberland County. We have represented multiple clients successfully in the area, and we can be on your side when you or a family member have been unjustly injured in a truck accident.
Whether you are an automobile driver or passenger alongside a semi-truck on the highway, or a pedestrian crossing a busy street in front of a tractor trailer, the sheer size and number of large trucks on the road represent accidents waiting to happen.
Common causes of truck accidents include driver error, improper training, driver fatigue, improper loading, or unsecured and unstable loads. The Federal Motor Carrier Statute requires truck companies to maintain records including driver qualifications, driving abstracts as well as vehicle safety inspections.
Our attorneys know how to uncover the truth about how accidents happen and are familiar with the applicable laws and requirements. We know what records are maintained and how to obtain them. Our attorneys work closely with accident reconstruction experts to assure that a full and thorough investigation gets to the facts.
Our attorneys have a track record of successfully recovering damages for our clients, and to date our total damages recovered is over $250,000,000. We have been serving the Atlantic City community with legal services for over 50 years, and we still effectively represent members of the community effectively today.
---
Please use the form below to email our Atlantic City truck accident attorneys and request a free, no obligation consultation.
So here are some facts you might want to remember the next time you encounter one of these on the road:
There are nearly 11 million large trucks on the streets and highways of the US. Every 16 minutes, a trucking accident kills or severely injures someone.
In 2009, 286,000 large truck crashes were reported, accounting for 4% of all motor vehicle accidents. Yet, due to their size, weight, and number on the road, large trucks have a higher fatal crash rate per mile than passenger vehicles.
Also in 2009, at least one person was killed in 3,215 of the reported large truck crashes, and injuries were sustained in 53,000 of these truck crash incidents. A truck crash is far more likely to victimize occupants of other vehicles than occupants of the truck.
In 2009, only 14% of large truck crash deaths were truck occupants. 70% of fatalities were drivers and passengers in other motor vehicles, and 14% were pedestrians, bicyclists, or motorcyclists.
Where Are The Trucking Industry Safety Regulations?
Have you or a family member been a victim of a traumatic trucking accident in the Atlantic City area? If so, you'll find yourself with a million questions weighing on your mind.
There are, of course, traffic laws that everyone on the road has to follow. But the trucking industry has an extensive list of regulations and laws called the Federal Motor Carrier Safety Regulations (FMCSRs). The FMCSRs guide the self-regulated trucking industry with regulations spanning all aspects of trucking, including:
Licensing requirements for truck drivers
Required documentation
Limits on consecutive work hours by hours
Weight, size and route limitations
Trucking insurance minimums
In A Preventable Trucking Accident? Contact Us Today.
Please know that if you have not done so already, you should seek medical attention right away when you are involved in a truck accident. You might not be feeling pain in certain parts of your body, but there could be injuries that will cause great hardships for you down the road. It's important that you be fully examined now so that you have the evidence on your side…insurance companies will pounce on your failure to do so.
Tom Vesper is on the National Advisory Board of the Association of Plaintiff Interstate Truck Lawyers of America (APITLA).
If a trucking accident severely injures you or a family member, please fill out our Contact Form. Or you can call us at 609-645-1111 to learn more. We are your experienced and successful team of Atlantic City truck accident attorneys. We would be happy to arrange for a confidential free consultation with you.
Want to see case studies, legal advice, and testimonials? Be sure to visit our Facebook page today!