Atlantic City Commercial Disputes Attorneys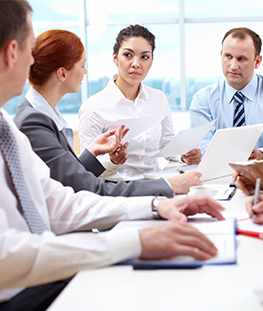 In commercial disputes, you need attorneys who understand the complexities of business torts…and how to win your case. The Atlantic City commercial disputes attorneys at Westmoreland Vesper & Quattrone are experienced lawyers with the knowledge you need to achieve the best possible legal outcome in your case.
Commercial disputes can occur over the buying or selling of properties, businesses, products, or services; in negotiating or disputing contracts, including contracts of employment; partnership agreements; and in numerous other business transactions.
Let's say that you've negotiated an agreement to sell your company. How can you be sure that you have an iron-clad contract that is fair to you and protects your interests? And if the deal unravels, how do you proceed to recover your losses?
Or maybe as a professional, you have signed an employment contract that calls for a raise at the end of the year, based upon quarterly performance evaluations. Your boss didn't do the evaluations, and now the company is reneging on its promise. You're afraid that if you push the envelope, you'll be fired.
Why You Need Legal Representation in Commercial Disputes
In situations like these, you probably don't know what your legal rights are, much less how to pursue them. Fortunately, the experienced business litigation attorneys at Westmoreland Vesper & Quattrone know what to do.
We know from experience, for example, that some employers cannot resist the temptation to reap the benefits of an employee's hard work, then decline to continue employment. Many professionals have employment contracts, either in writing or formed through practices and collateral documents. When employers unfairly violate these agreements, our attorneys know how to analyze the facts and present them compellingly so that the chance for justice is best served.
Our business litigation attorneys not only know the law, they have applied it to situations that may be similar to yours and have gained favorable results for their clients. They have demonstrated, time after time, that they are not afraid to take on corporate giants who put profit over people.
If you are in a position of negotiating or disputing a business relationship that affects your life and your family's future, talk with the Atlantic City commercial disputes attorneys at Westmoreland Vesper & Quattrone. Please fill out our Contact Form, or call us to learn more and arrange for a confidential free consultation. We are based right here in West Atlantic City, and can meet with you as soon as possible.
Atlantic City Commercial Disputes Litigation and Appeals
Our attorneys are experienced litigators with vast experience involving commercial disputes in the State and Federal Courts in New Jersey. We have represented both plaintiffs and defendants in various types of matters, including breaches of contracts and commercial disputes, fiduciary trust matters, insurance coverage and real estate disputes, and Consumer Fraud Act claims. Because we emphasize that litigation is oftentimes not the first or best way to solve a dispute, we also assist clients in avoiding litigation and resolving matters outside the courts with alternative dispute mechanisms such as mediation and arbitration .
We have frequently been engaged as trial and/or local counsel for litigation in New Jersey, working in conjunction with national firms and providing our years of wisdom and experience with local procedures, practices and tendencies.
Often a dispute does not end even though the trial is over. When necessary, our attorneys have pursued and defended appeals in various courts. We have the experience to handle all aspects of an appeal, from the initial filing, to compiling the record of the court below, to brief writing, to the oral argument and evaluation of the need for additional appeals.
WV&Q Commercial Litigation and Appeal Practice includes:
Contract Disputes
Construction Litigation
Fiduciary Trust Matters
Insurance Coverage Litigation
Shareholder Disputes
Partnership Disputes
Real Estate Litigation
A few of our successful representations in commercial litigation include:
$7.8 Million verdict in a contract dispute.
$4.75 Million settlement in behalf of eight farmers against a chemical company
$2.2 Million settlement from an oil company for defrauding its investors.
$2 Million consumer fraud jury verdict and settlement on behalf of 68 homeowners defrauded by a home builder.
$500,000 jury verdict plus attorney fees against a county for an asparagus farmer whose crops were destroyed by trespass and destruction of the tree-wind breaks.
A mid six-figure settlement against an insurance company involving one of their investment advisors on claims of fiduciary breach and violations of securities laws.
Westmoreland Vesper & Quattrone has a long track record of success when it comes to representing our clients. That includes clients in commercial disputes and similar fields. Furthermore, our attorneys know how to prepare for a case and we are never afraid to take a case to trial when necessary. We invite you to have a look at some of our testimonials here, and see the difference we make for our clients.
Contact Our Atlantic City Commercial Disputes Attorneys Today.
Are you in the Atlantic City region and been wronged in a commercial dispute? Reach out to Westmoreland Vesper & Quattrone today using the form below. We'll schedule a free consultation to hear your side of the story and help you move forward with legal action. Our attorneys know how to achieve the compensation you deserve!
Interested in seeing some of our successful outcomes and in reading legal advice? Be sure to Follow our Facebook page!