Monthly Archives:
November 2019
---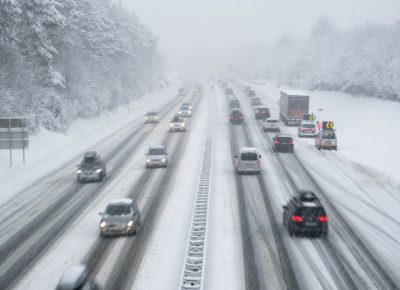 Let's look at some tips for safe winter driving. Whether or not we'd like to admit it, winter weather is upon us. When the temperature drops, we see an increase in risky driving conditions. While many of us would like to avoid the winter roads altogether, the reality is that our lives don't stop when the weather is less than ideal.
Luckily, you can prepare ahead of time for such driving conditions. Let's take a look at the three top tips for staying safe in winter weather!
3. Prepare your Vehicle! for Winter Driving
Making sure your car is prepared for anything Mother Nature throws its way is very important. This can be done in many different ways.
Stock your car. Make sure it's well-equipped with anything you might need in an emergency. Food, water, a flashlight, a blanket, a glass scraper; these and more are practical items you might need somewhere along the line.
Check your tires! Did you know that your tire pressure can fluctuate with the rise and fall of temperature? Keep an eye on it and add some air as needed. Also, be sure you have plenty of tread to see you through the winter months. If not, consider replacing those tires for the safest ride.Fill the tank. If a winter storm hits, traffic is bound to get messy. The last thing you want is to get stuck on the highway with an empty tank. Make sure you always leave at least a half tank in there in case of an emergency.
Check your brakes. Winter is a great time for some routine maintenance on your brakes and brake pads. Make sure they're operating at the top of their game!
2. Review your cold-weather driving tactics.
There are some go-to rules when it comes to driving in winter weather. Most especially in the snow. It never hurts to review your knowledge so you can be a confident driver when the storm hits.
Slow. Down. Snow and ice means less traction. Take your foot off the gas a bit to ensure the safety of yourself and those around you. You'll get there in good time!
Add some distance between cars. It takes longer for your car to slow down when roads are slick, so you want to make sure to account for that time difference when it comes to the car in front of you. Give yourself extra space.
When in the thick of a storm, remember to allow inertia to help you out. Try and slowly roll rather than coming to a complete stop, watch how much gas you give it on hills, and make sure you don't stop while climbing a hill!
1. Check your coverage!
Accidents happen, and we often represent clients who were unaware of their limited coverage only to find out the hard way. This does not have to be you!
Westmoreland Vesper & Quattrone has your back. We offer a review of your insurance coverage and can let you know where adjustments need to be made. We make a point to help you understand your auto insurance coverage and, if necessary, make coverage suggestions. This service is free of charge, so the peace of mind is a no-brainer.
Click here for a free attorney review of your auto insurance policy, and know for sure: Does your auto insurance policy have you covered? We'll answer that question for you and your specific situation.
If you or someone you know are already searching for South Jersey accident attorneys, call us today at 609-645-1111 for a free consultation.