Trips, Slips and Falls: Things You Need to Know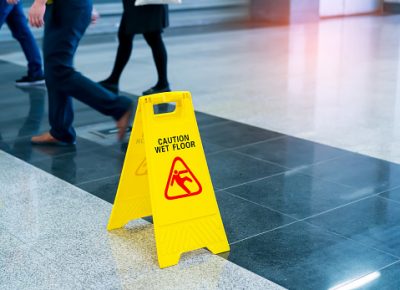 Trips, slips and falls can happen just about anywhere. You might slip on an icy step walking into your neighbor's house or as you walk into the store to do the grocery shopping. There may be many reasons that you have an accident, but most often slips and falls occur because a property owner has not kept their property safe from dangerous conditions.
Property owners, including businesses and government buildings, have a responsibility to keep their properties maintained so that they are safe. Premises liability holds owners liable for injuries that may occur on their properties. If a property owner doesn't maintain their property that put everyone in danger. Here are some common causes of slips, trips and falls:
Dangerous walkways, flooring or failure to remove or treat snow or ice
Poorly maintained parking lots
Negligent or inadequate security
Improper lighting
Unsafe stairs, railings or balconies
If you experience slips and falls on someone else's property, here is what you need to do:
TAKE PHOTOS. The first and most important thing that you can do after you have fallen or been injured is to take pictures of the dangerous condition. If you are unable to take pictures, have someone take pictures for you of the area the fall occurred.
SEEK MEDICAL ATTENTION. If you have been injured, you should seek medical care as soon as possible. It is important to document your injuries.
DO NOT DISCUSS YOUR INJURY WITH THE PROPERTY OWNER OR AN INSURANCE COMPANY. Other than reporting your injury to the property owner when it has occurred, there is no need to discuss it with them or an insurance company until you have consulted with an experienced personal injury attorney.
Determining whether the property owner is responsible
Just because you have fallen on someone else's property, it may not necessarily mean that they are liable. Your attorney will understand the nuances and intricacies of premises liability once you consult them. If you have been injured from a slip, trip, or fall or other negligent property owner act, please give us a call today for a free, confidential consultation.